PARADEIGMA FRONT CIRCLE TEE
Regular price
$130.00
Sale price
$190.00
PARADEIGMA FRONT CIRCLE TEE
Regular price
$130.00
Sale price
$190.00
SHIPPING & PAYMENT
Shipping
All items at VAGUE store are made to order from the customer's request. All orders are handmade and shipped out from our atelier in Tbilisi, Georgia. We aim to fulfill all orders within 7 business days. Please add the fulfillment time to the shipping estimates below.
Shipping times & cost:
FedEx: 5-10 business days, 50$
Georgian Post: Free Shipping within 30-40 Days
Payments
All order payments will be proceeded in USD. Please contact us for questions concerning the prices and currency.

Supported payment methods are:
PayPal
ApplePay
Most common credit cards (AMEX, VISA, MasterCard, JCB)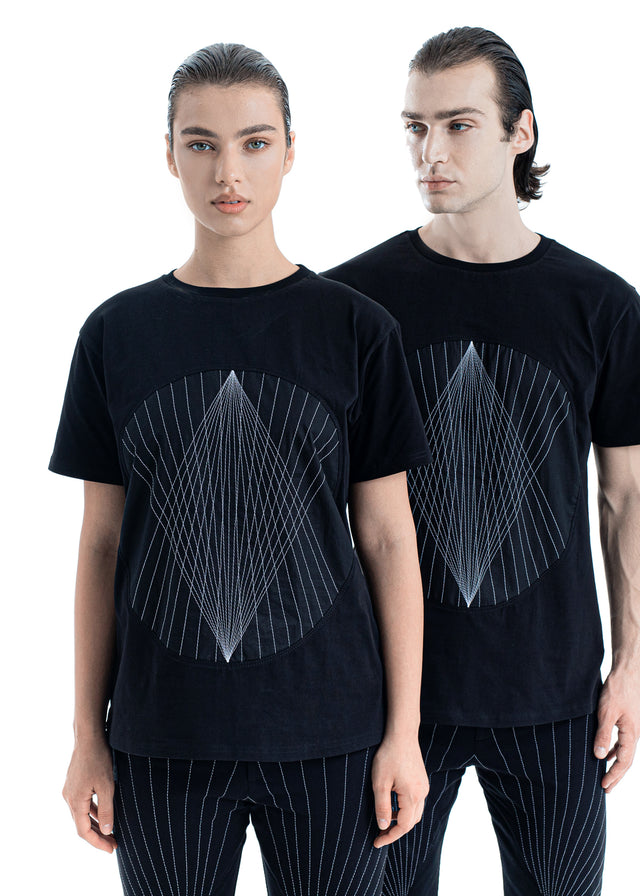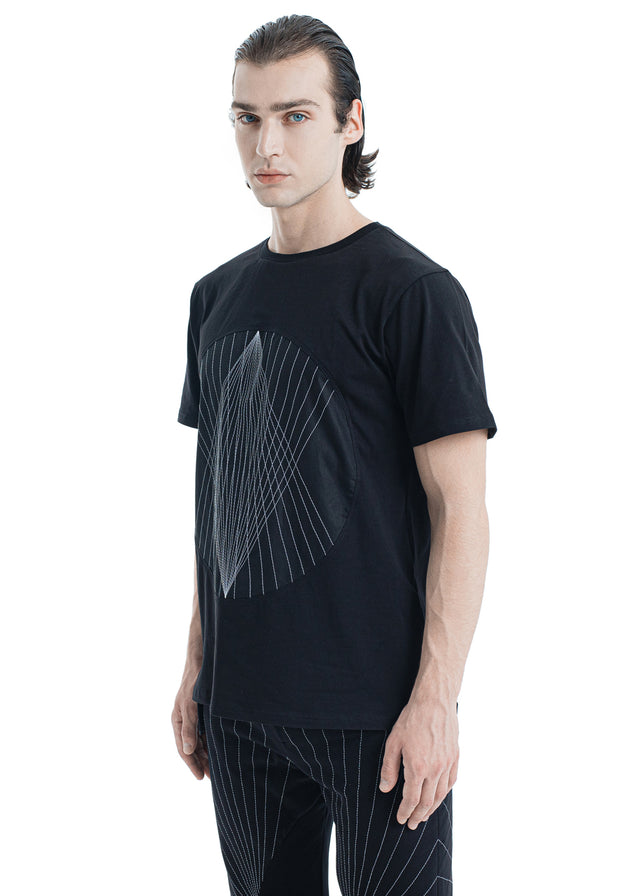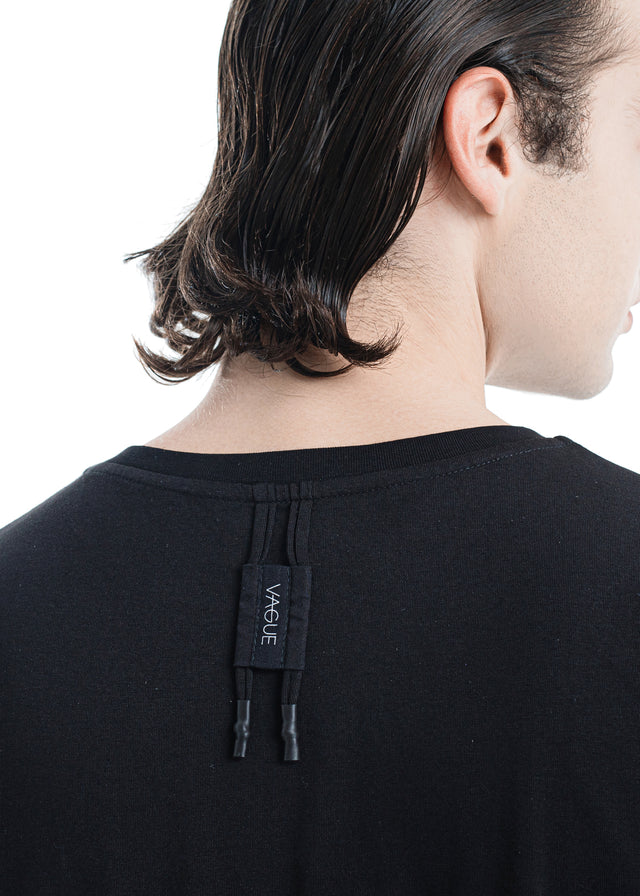 VAGUE's collections have a continuum of geometrical shapes, that appear throughout the designs, prints, or stitching. This t-shirt comes with geometrical white stitching on the front.

The regular fit black t-shirt is made of a soft and comfortable cotton jersey. It comes with a rib on the neck, and ribbon detail on the back. Each piece is handmade by our professional seamstress in the atelier and makes them one-of-a-kind.

Made from 90% cotton, 10% lycra
Appliqued circle 100% cotton
30° wash, no tumble dry
Kote is 186cm tall and wears a size L
Tamara is 178cm tall and wears a size M
PARADEIGMA AW21 COLLECTION
This item is part of the VAGUE's AW21 collection, PARADEIGMA. The collection is inspired by the paradigm, a pattern example, or a sample. And from the paradigm's "isolated example by which a general rule is illustrated", 22 models are created, each a work of art in its own right.
Inspired by Aboriginal Artworks by Anna Price, graphic elements and ornaments that create optical illusions are drawn on each piece before being embroidered by our artisans. The Paradigm collection graphics, in their patterns, give the sense of light and of the rising sun. They create spectrums that the eye can play with and are also enhanced by the first-time addition of greys into the collection. These newly incorporated metallic grey spectrums and reflecting materials further intensify the collection concept.
PARADEIGMA collection furthermore uses its root meaning to dictate the production process. Each piece that exists now works as the sample to which made-to-order pieces will be fabricated. Working sustainably and in meeting the needs of the present, the production of this collection will limit unnecessary excess. This process allows room for further custom-made and versatile items. Each piece is therefore individually unique and also a part of a larger work of art.
DESIGNED GENDER-FREE
Designing clothes according to the gender of the wearer is irrelevant to us. Each VAGUE garment is designed to be worn by its wearer, whoever it may be.
When gender norms are losing their importance, the discourse becomes more open, and the freedom to just be yourself disengages from old stigmas, looking inward allows us to place more emphasis on what is important in clothing - comfort, texture and shape.
MADE TO ORDER IN PRIVATE ATELIER
All VAGUE garments are carefully handmade at our own private atelier in Tbilisi, Georgia. VAGUE's designer Anuk, together with our professional seamstresses, each garment is one of a kind and long-lasting.
To avoid large stocks and surplus, we make each garment made to order, from the customer's request. Production time for one order is up to 7 business days.
HIGH-QUALITY MATERIALS
We design each garment to last time and use. This is why we also use high-end materials. Each material is carefully picked to serve as long as possible, as well as possible.
Most of the materials are natural and breathable to give a comfortable feeling also in the hot summers. Besides these natural and light materials, we use more distinct materials that reflect or give the garment, and color black more shades and another dimension.